IAEN Pre-Conference Meeting 2012
"It's really a unique time... a time in which an economic analysis will have a disproportionate impact on planning and integration... to move smoothly as we move from a donor-dominated and donor-prioritized effort to a country-dominated, country-prioritized vision."
Ambassador Eric Goosby, U.S. Global AIDS Coordinator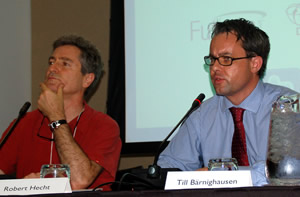 On July 20-21, 2012 the International AIDS Economics Network hosted the largest ever International AIDS Economics Network Pre-Conference Meeting. This event, the 7th of its kind since 2000, brought together 150 of the world's top health economists, policy makers and researchers to share cutting edge research and discuss emerging issues related to HIV and economics around the globe.
During the meeting, leaders at the forefront of the global HIV/AIDS movement highlighted the critical need for implementation and integration of strategic economic analyses into HIV/AIDS policies and programs. Discussions addressed PEPFAR's commitment to knowing costs and engaging economic and financial data to use resources most efficiently. In a compelling keynote speech on Day 1 of the meeting, Ambassador Eric Goosby, U.S. Global AIDS Coordinator, remarkedthat in this time, "cost-effective analysis and thinking becomes the tool for us to preserve program and expand program, to drop more morbidity and more mortality."
Similar sentiments were shared by other key leaders in the field including Roxana Rogers, Director of the Office of HIV/AIDS at USAID and Dr. Stefano Bertozzi, Director of HIV at the Bill and Melinda Gates Foundation. To watch their keynote speeches, click on the videos below.
The IAEN is always looking to expand its membership and the field of economists, policy makers and researchers from whom we solicit abstracts, particularly those in developing countries. To become part of the IAEN and receive updates about upcoming events, innovative research and new publications, visit our LinkedIn page and join our group.
The 7th IAEN Pre-Conference Meeting was hosted with generous support by:
Below are links to many of the presentations made at the IAEN conference, listed by title with presenting author.